In 2020, the most popular mobile apps to be installed are still social networks and applications from the gaming industry. In addition to these applications, which are most often used for entertainment, there is a wide range of applications that are created to make your life easier.
Business mobile apps are often specially designed to speed up your daily processes, provide you with easy access to the necessary information, and automate daily activities.
We have singled out 6 mobile applications for you, which in our opinion are the basic mobile applications that every apartment owner or hotel manager should have on their phone.
Trello
An application that allows you to effectively control the process during the business. Define stages and tasks by simply viewing a specific table, giving your employees or partners access to this information, and monitoring how they perform the necessary tasks. You can use Trello for logistics, event organization, fault tracking, and status notes. In addition, Trello offers the ability to connect to other systems such as Slack, Asana, Jira, etc.,
Mobile app is available on : Play Store & App Store
Hootsuite
Hootsuite is a platform designed to make it easier for you to control your social media profiles. Through the mobile application, you can schedule and organize posts on your profiles, track analytics, organize your employees, and track ROI.
Mobile app is available on: Play Store & App Store
OTA Sync
OTA Sync is a property and hotel management platform created to make it easier to run apartments, hotels, and hostels. Organize your guests' reservations in one application, control availability, prices, create offers, minimum stays, and track sales statistics. The application is a solution for all managers and owners who are often on the move and want to have a direct connection with their reception and constant insight into events.
Mobile app is available on: Play Store & App Store
Dropbox
Dropbox allows you to store and organize all your documentation on one cloud platform. From pictures and photos, through invoices, Excel files, and receipts, in a few clicks save the necessary documents, view them, share with others and make it easier for yourself to access the necessary information.
Mobile app is available on: Play Store & App Store
Pulse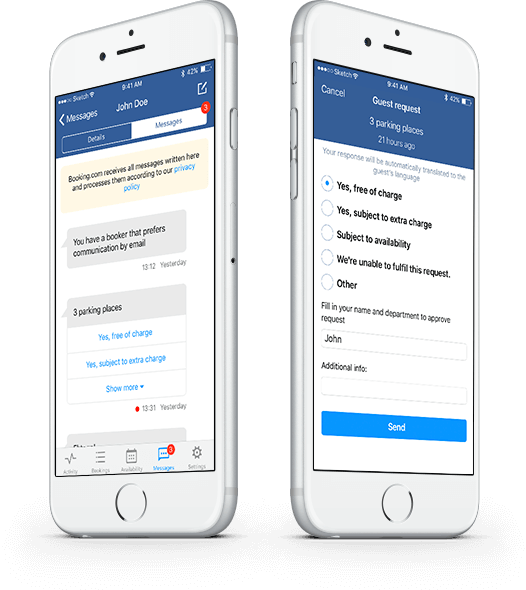 Pulse is a mobile application of the company Booking.com, which allows you to communicate with your guests, regulate special offers on the site, and track statistics on active promotions (eg Genius discounts).
Mobile app is available on: Play Store & App Store
Airbnb
Airbnb is a platform for guests and accommodation renters. It allows renters or managers and owners of private accommodation (apartments, houses, rooms, villas) to easily and quickly control their listings (accommodation profiles) on the platform, as well as to speed up and simplify communication with guests.
Mobile app is available on: Play Store & App Store
Whether you decide to install applications from our list or not, try to make your business easier, automate and digitize as much as possible. That way, you will have enough time to dedicate to improving sales and improving communication with guests.